Eternal love -Niue 1 $ Heart-shape 99,9% silver coin /pedant with heart-shaped crystal
Face Value: Niue 1$
Silver: 99.9%
Weight: 15 g
Dimensions: 25 x 21,1 mm
Coin Accent: Stone insert
Quality: Antique finish
Mintage quantity: 9999 pcs


A beautiful heart-shaped coin with heart-shaped crystal- show your eternal love.

Perfect gift for Christmas, Mother's Day, Valentine's Day

Pure Silver combined with a precious heart-shaped crystal and a beautiful floral pattern!

Comes ready to wear with necklace and in premium jewelry packaging.

Eternal love – underlined by the fact that the coin has no year date!
This incredible Silver coin is dedicated to love and features the most powerful symbol of love – the Heart. The coin has a wonderful heart-shape, an incredible heart-shaped Crystal insert and an Antique Finish quality. It can be used as a pendant and comes in a case, along with the Certificate of Authenticity. Limited mintage to only 9.999 pcs worldwide.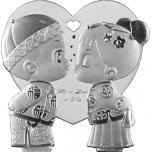 Face value: Niue 1$
Silver: 99.9%
Size: 36 x 35,5 mm
Weight: 15,5 g
Mintage: 3,000
Fall in love at kiss silver coin will be a series of products. According to the different countries of boys and girls' clothing as features, by boys and girls after kissing love as the theme. The first coin in the series is traditional Chinese garments, deliver the sweetness of love. The most romantic thing in the world is that I like you, and you just like me.
99,00 €