Coin-holders and accessories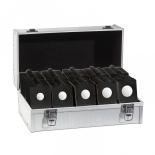 MATRIX coin holders are either white or black provide optimum protection for your coins from adverse enviromental conditions. Made from strong card with 100% chemical softener-free, anti-glare film. Hadling of coins without touching the surface: simply place the coin in the open frame and press the two sides together. The coin holders can be labeled if desired.
Overall size 50 x 50 mm.