Coin cleaning detergents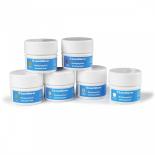 Cleanig baths with high-quality substances witch ensure the quick and gentle removing of oxidation on coins.
Its so simple: submerge coins in the bath for several minutes (the time required in the bath depends on the cleaning bath being used and the level of oxidation). For further information please read the instruction of the respective product. Then rinse thoroughly anf dry with a soft cloth - do not rub! Featuring child safety feature.
Contents: 200 ml.