On sale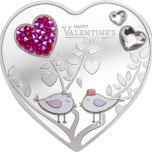 Country: Cook Islands
Year: 2021
Face Value: 5 Dollars
Silver: 99.9%
Weight: 20 g
Size: 37 x 37 mm
Quality: Proof
Mintage: 2021
Technique: smartminting
February 14th. A day for all lovers.
And the 2021 edition of the Silver Hearts collection originated in 2005 is the perfect gift for that important occasion. The overarching motif of love is captured in this heart shaped coin measuring 37×37 mm.
The modern and fresh appeal is obtained by the application of Swarovski elements, heart shaped clear crystals and an illustrated cute bird couple.
This remarkable coin will surely put a smile on your loved one's face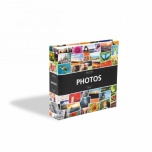 The LEUCHTTURM VALEA album for photos in a modern and brightly colored design has room for up to 200 photos (size: 10 x 15 cm). Comprises 100 pages of cream-colored and high-quality photo card, it is ideal for anyone who has a large number of photos and is creative. Glassine leaves provide additional protection for your photos. Premium quality and durable thanks to stitch bookbinding. As the cover is laminated, any surface dirt can be wiped off easily using a damp cloth. Overall size: 230 x 235 x 50 mm