Remember the life and reign of Queen I - Canada 4,90 $ 2022 Collector´s edition coin set
As we focus our attention on commemorating the reign of Queen Elizabeth II (1952-2022), the Mint will not be issuing any 2023-dated Canadian circulation coins featuring both the traditional reverse designs and an obverse featuring Queen Elizabeth II.
Each coin's obverse is double-dated ("1952-2022") to commemorate the reign of Queen Elizabeth II.

Metal: Cupper/Nickel
Weight: 63,160 g
Quality: B.U.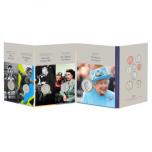 This set features the five commemorative coins specially selected for the 2022 Annual Sets, including coins dedicated to Dame Vera Lynn, Alexander Graham Bell and Birmingham 2022 Commonwealth Games, as well as two different coins commemorating Her Majesty The Queen's unprecedented Platinum Jubilee. Additionally, the set also contains the eight definitive coins of 2022, which have all been struck in their circulating alloys and finished to Brilliant Uncirculated standard. The definitive coins ranging from 1p to 50p are presented in their completed arrangement to form Matt Dent's 'picture puzzle' recreation of the Royal Arms. Meanwhile, the reverse of the £1 coin features David Pearce's design representing the UK's four home nations, whilst Antony Dufort's Britannia £2 coin design completes the collection. The coins are presented in fascinating fold-out packaging, providing contextual insight into each coin and the relative subject matter.
79,00 €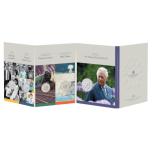 The first Annual Sets release to feature the world's first official coinage portrait of King Charles III
Each coin features the definitive coinage portrait of His Majesty The King designed by Martin Jennings
Five new commemorative coins feature in the set, specially chosen for this year
Each coin is struck to Brilliant Uncirculated standard, which is a higher standard than the coins found in everyday change
Dated 2023, the coins serve as special keepsakes of a new chapter in numismatic history
Accompanied by fold-out packaging that offers insight into the anniversary, event or figure each coin celebrates
The 2023 Annual Sets contain specially selected commemorative coins that celebrate icons, events and anniversaries of British cultural and historic significance. Serving as a physical representation of The Royal Mint's dedication to its craft, innovation and quality, these sets are a highly anticipated release that marks another chapter in numismatic history each year. This year's Annual Sets notably feature Martin Jennings' definitive effigy of His Majesty The King for the first time.
79,00 €