Mythical Creatures - The Siren. Niue 5$ 2023 99,9% silver coin, 62,2 g
Issuing Country: Niue
Face Value: 5 Dollar
Weight 62,2 g
Silver: 999
Diameter 55 mm
Quality: Proof
Year Date: 2023
Mintage: 750

The 2023 $5 Siren 2oz Silver Proof Coin, our latest nautical masterpiece, celebrates the mythical sea siren - a creature of deadly beauty. The Siren originates in ancient Greek mythology - a wicked temptress who takes the form of a half-woman, half-bird. The Roman poet Ovid wrote that the Sirens were once the human companions of Persephone, the daughter of the goddess Demeter. When Persephone was stolen by Hades, the God of the underworld, Demeter turned the Sirens into birds as punishment. The legend of the Siren, as the creatures who lured sailors to their deaths with the irresistible sweetness of their song, was further disseminated through the works of Homer, when the hero Odysseus faced them in his long journey back to Ithaca. In modern times, the Siren is often portrayed as a stunning, but lethal, mermaid – the quintessential temptress capable of luring hardened sailors to their death with her hypnotic song. It is this desirable denizen of the deep that has been brilliantly depicted on the reverse of this spectacularly struck Niue legal tender coin.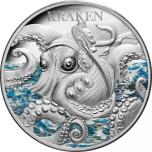 Face Value: 5 Dollar
Weight 62,2 g
Silver: 999
Diameter 55 mm
Quality: Proof
Issuing Country: Niue
Year Date: 2023
Mintage: 750
Introducing the 2023 $5 The Kraken 2oz Silver Proof Coin, the perfect addition to your collection of mythical creatures and underwater horrors! Boasting a spectacular full-colour design, stand-out nautical obverse, high quality silver content and enviable rarity. This Niue legal tender coin is everything it's krak-ed up to be! The Kraken is a legendary sea monster, originating in Nordic mythology, resembling a giant octopus capable of destroying entire ships. The reverse of the large 55mm flan features an extreme close up of a terrifying Kraken in an intricate, high relief design – complete with fierce expression, powerful waves and a multitude of tentacles ready to grab the unsuspecting sailor. But don't worry, this monster has been safely captured and sealed within the confines of 2oz of glimmering 99.9% PURE SILVER, so you can admire its awesome detail without being dragged to the depths. The dynamism of the design is enhanced by state-of-the-art colour application on the churning sea, deepening the feeling of movement and ferocity. The obverse is just as special! The official Public Seal of Niue is encircled by a decorative nautical-themed boarder, populated by classically rendered sirens and mythical sea monsters - all struck to splendid Proof quality! A MUST-HAVE for any numismatic collector, or purveyor of sea-faring history, beautifully presented in a box with numbered Certificate of Authenticity.
299,00 €