Amazon Femina Bellator 2 oz Antique finish Silver Coin 2000 Francs CFA Cameroon 2024
Face Value: 2 000 Fr
Issuing Country: Cameroon
Weight 50 g
Silver: 999
Diameter 55 mm
Quality: Antique finish, Amazonite insert
Year Date: 2024
Mintage: 500

The Amazons. The legendary warrior women believed to live in various regions around the Black Sea, the Caucasus Mountains, and parts of Asia Minor. Highly skilled in archery, horseback riding, and combat, these maidens honed their weapons in a valiant effort to protect their lands.

As the embodiment of female power, the flower of the wild rose hip on the obverse symbolizes the Amazons courage and strength. Their adventurous lives inspire us to forge our own path — unyielding, unapologetic, and free.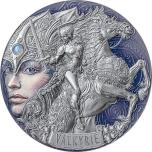 Face Value: 2 000 Fr
Issuing Country: Cameroon
Weight 50 g
Silver: 999
Diameter 55 mm
Quality: Antique finish
Year Date: 2023
Mintage: 500
Valkyrie is a first coin from the new Femina Bellator series about stunning warrior maidens. Valkyries are goddesses of Norse mythology who decide the fate of warriors and ride the courageous souls to Valhalla. Valkyries are sensitive and faithful creatures who can be fierce and cold-hearted when needed.
The high relief technique highlights the sleek body of the fearless and strong female figure. A moonstone on the warrior maiden's helmet represents the aurora borealis, which the Vikings believed to be the reflection of the Valkyrie's sword.
The Valkyrie coin breathes with the cold Norse myths. Make it a remarkable new piece in your collection.
299,00 €