Album Numis with 5 coin sheets. Green
Complete album consisting of a 4-ring binder, 5 coin sheets, (1 each of NUMIS 44, 34, 25, 17 MIX), 5 white interleaves and one illustrated white interleave as title page and slipcase. Silver embossing on front and back. Overall size: 215 x 230 mm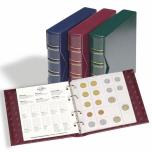 Classic-design complete album with matching slipcase. Bound leatherette ring binder with 4-ring mechanism,  including 5 NUMIS sheets (44, 34, 25, 17, diverse) and 5 white interleaves. Sliding drawer window are made of plasticiser and acid free soft specialty film. Overall size:   235 x 240 x 60 mm
32,00 €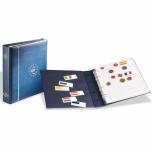 Blue 4-ring binder with 7 sheets NUMIS (for 21 complete Euro coin sets) + set of colourful flag stickers with room for notations for 27 countries as follows: Austria, Belgium, Bulgaria, Germany, Estonia, Finland, France, Greece, Ireland, Italy, Latvia, Lithuania, Luxembourg, Malta, Monaco, Netherlands, Austria, Poland, Portugal, Romania, San Marino, Slovakia, Slovenia, Spain , Czech Republic, Hungary, Vatican and Cyprus.
Sliding drawer windows are made of plastiziser-free and acid-free special foil. Embossed euro sign in silver on cover and white interleaves.
Overall size:  215 x 230 x 48 mm
32,00 €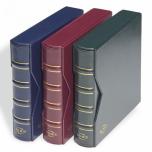 Bookbinder's quality leatherette binder with 4-ring mechanism. Overall size: 235 x 240 x 60 mm. This album is without pockets.
29,00 €