Album Grande Classic with slipcase. Black
Bound leatherette cover with 4 D-ring mechanism.This ring binder holds up to 60 sheets (depending on the strength of documents) and fits all standard A4 clear pastic wallets, as well official GRANDE sheets.

GRANDE binders are ideal for storing stamps, banknotes,  booklets and other A4 documents. 

Incl. matching slipcase. Overall size: 295 x 335 x 70 mm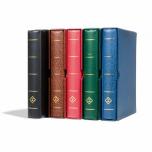 OPTIMA ring binder made from textured leatherette with a matching slipcase. Two page turners. Can be expanded to hold up to 50 OPTIMA coin sheets (depending on contens).
39,00 €
Ring binder in bookbinder's quality and bound leatherette cover. Holds up to 60 OPTIMA sheets (depending on strenght of documents), sturdy 4 D-ring mechanism. Overall size: 245 x 270 x 55 mm 
35,00 €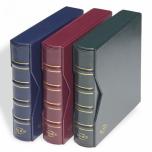 Bookbinder's quality leatherette binder with 4-ring mechanism. Overall size: 235 x 240 x 60 mm. This album is without pockets.
30,00 €