The Year of the Ox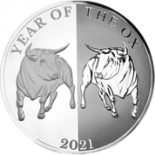 The hardworking and patient Ox is the second sign in the Chinese Zodiac.According to the Chinese Zodiac, the Ox, which is the second of twelve signs, is the original Quiet Achiever. Blessed with the character traits of strength-
Year of the Ox
1913 - 06.02.1913 - 25.01.1914
1925 - 24.01.1925 - 12.02.1926
1937 - 11.02.1937 - 30.01.1938
1949 - 20.01.1949 - 16.02.1950
1961 - 15.02.1961 - 04.02.1962
1973 - 03.02.1973 - 22.01.1974
1985 - 20.02.1985 - 08.02.1986
1997 - 07.02.1997 - 27.01.1998
2009 - 06.02.2009 - 26.01.2010
2021 - 12.02.2021 - 31.01.2022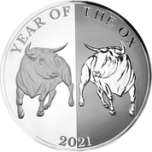 Dimensions: 65m
Standard Weight: 31.1g
Silver: 99.9%
Year Dated: 2021
Monetary Denom:
NZD 5.00
Max Mintage: 500
Country of Issue: Tokelau
MIRROR OX – MASSIVE 65mm 1oz SILVER PROOF COIN
The Year of the Ox will commence on 12 February 2021. In Chinese element theory, each
zodiac sign is associated with one of the five elements: metal, wood, water, fire and earth and
each element appears in a 60 year cycle. 2021 represents the year of the Metal Ox, whose
characteristics include honesty and being earnest. It is said people born in this year are hard
working. They are kind, think logically and make great leaders.
This astounding 65mm 1oz pure silver coin features a classic image of an Ox curiously looking
at a mirror image of itself. The coin is created in proof condition, with the Ox on one side
sculpted proof with a highly polished proof table, the other side with a frosted table and polished
Ox. As with each of the previous issues, only 500 coins will be released.
Minted by BH Mayer, these Tokelau coins will be a valued addition to any lunar coin collection.
119,00 €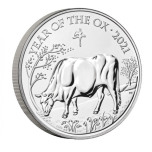 Denomination: 5£
Alloy: Cupro-nickel
Weight: 28.28 g
Diameter: 38,6 mm
Quality Brilliant Uncirculated
Year: 2021
Celebrate Chinese New Year with this commemorative £5 coin
Year-dated 2021 commemorating the Lunar Year of the Ox
Presented with a traditional red envelope perfect for gifting
Includes striking packaging that artfully reflects the lunar calendar and Chinese culture
Features an incredibly detailed design by experienced artist, illustrator and sculptor Harry Brockway
25,00 €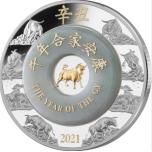 Country Laos
Year 2020
Face Value: 2000 Kip
Silver: 99,9%
Weight: 62.2 g
Diameter: 55 mm
Quality: Proof
Mintage: 2.888 pcs
This beautiful 2 Oz Silver coin is dedicated to those born under the Chinese lunar year of the Ox, known to be generous, brave and ambitious persons. The coin has a real ring shaped Burmese Jade insert, has a selective Gold plating, has a Proof quality and comes in a presentation case, along with the Certificate of Authenticity. Limited mintage to 2.888 pieces worldwide.
295,00 €