"Wonderland of insects" - Red mason bee. Germany 5€ 2023 commemorative coin
Materiall: CuNi
Weight: 9g
Diameter: 26,9 mm
Mintage: 100 000


The German government has decided to mint a €5 collectors' coin entitled "Red mason bee", to be issed at 7 September 2023. It is the fourth coin issued as part of the "Wonderful world of insects" series, which will see a total of nine coins with partially coloured motifs issued over the period 2022-24. The series is intended to bring into focus – especially in light of current developments (insect extinction) – a special group of animals that make up a significant part of our natural heritage.

The €5 collectors' coin "Red mason bee" is made of a cupronickel alloy. It weighs 9.68 g, measures 27.25 mm in diameter and will be available both in mint condition and with a proof-like finish. The mint condition coins will be brought into circulation at their face value (€5). The collector quality coins with a proof-like finish will be higher than their face value and will be issued by the Münze Deutschland (Germany's official sales agency for collector coins).

The coin was designed by Claudius Riedmiller, an artist based in Stuttgart (picture side), and Andre Witting, a Berlin-based artist (reverse).

The reverse, which will be used for all coins in the series, features an eagle, the words "BUNDESREPUBLIK DEUTSCHLAND", the value and denomination, the year 2023, the twelve stars of Europe and the letter "D" for the State Mint of Munich.

Its smooth edge is engraved with the inscription: "WUNDERWELT INSEKTEN" (WONDERFUL WORLD OF INSECTS)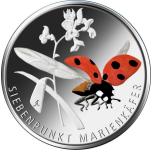 Materiall: CuNi
Weight: 9g
Diameter: 26,9 mm
Mintage: 100 000
2.nd issue of a series of 9 coins "Wonderland of insects"
One of our most common ladybirds, the black-on-red markings of the 7-spot ladybird are very familiar. Ladybirds are a gardeners best friend as they eat insects that love to nibble on garden plants! You can encourage them into your garden by putting up a bug box. The bright colours of ladybirds warn predators that they are distasteful, although some birds may still have a go at eating them. As well as their warning coloration, ladybirds also have another defence mechanism: when handled, they release a pungent, yellow substance from their joints (a form of 'controlled bleeding') that can stain the hands.
12,90 €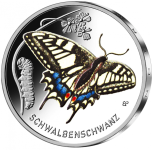 Materiall: CuNi
Weight: 9g
Diameter: 26,9 mm
Mintage: 100 000
It is the third coin issued as part of the "Wonderful world of insects" series, which will see a total of nine coins with partially coloured motifs issued over the period 2022-24. The series is intended to bring into focus – especially in light of current developments (insect extinction) – a special group of animals that make up a significant part of our natural heritage.
The €5 collectors' coin "Swallowtail" is made of a cupronickel alloy. It weighs 9.68 g, measures 27.25 mm in diameter and will be available both in mint condition and with a proof-like finish. The mint condition coins will be brought into circulation at their face value (€5). The collector quality coins with a proof-like finish will be higher than their face value and will be issued by the Münze Deutschland (Germany's official sales agency for collector coins).
The coin was designed by Bastian Prillwitz, an artist based in Berlin (picture side), and Andre Witting, a Berlin-based artist (reverse).
The reverse, which will be used for all coins in the series, features an eagle, the words "BUNDESREPUBLIK DEUTSCHLAND", the value and denomination, the year 2023, the twelve stars of Europe and the letter "G" for the State Mint of Karlsruhe.
Its smooth edge is engraved with the inscription: "WUNDERWELT INSEKTEN" (WONDERFUL WORLD OF INSECTS).
12,90 €