Magical Nanny Niue 1$ 2022 antique finish color printing 99,9% silver coin. 1 oz
Country: Niue
Year: 2022
Face Value: 1 $
Silver: 99.9%
Weight: 31.1 g
Quality: Proof
Mintage: 1 000 pcs
Antique finish

This could probably be the way to describe this nanny. She is attentive, charming, creative, but most importantly, she manages to do everything in time and is able to change the world for the better. This nanny symbolizes strong women who, like a real Jill of all trades, keeps up with everything and knows how to take care of everyone, so that no one is left unhappy. After all, there are so many different needs and so many different expectations in a house with children. The greatest challenge in the family is to understand and support each other. It seems that this is what the Magical Nanny is teaching us.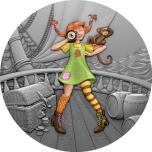 Country: Niue
Year: 2022
Face Value: 1 $
Silver: 99.9%
Weight: 31.1 g
Quality: Proof
Mintage: 1 000 pcs
Antique finish
We all had a childhood friend, right? The red-haired girl and best friend the playful monkey. This girl is always cheerful and invites us to immerse ourselves in the joy of daily discoveries, which we tend to forget when we become adults. Girl and her monkey like to go on fun child trips and learn new things and encounter new experiences every day. This coin can therefore be a perfect birthday present for a child, or a present to celebrate the start of a new academic year, or an original idea to celebrate a baptism.
179,00 €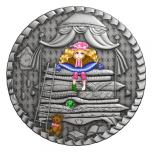 Face Value: 1 $
Country: Niue
Year: 2021
Silver: 99.9%
Weight: 31.1 g
Quality: Proof
Mintage: 1 000 pcs
Antique finish
159,00 €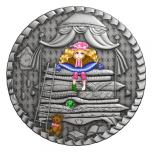 Face Value: 1 $
Country: Niue
Year: 2021
Silver: 99.9%
Weight: 31.1 g
Quality: Proof
Mintage: 1 000 pcs
Antique finish
159,00 €