Lunar Year of the Tiger 2022 Silvernote. Mongolia 100 Togrog 2021 99,9% silver, 5 g
Country: Mongolia
Year: 2021
Face Value: 100 Togrog
Silver: 99.9%
Weight: 5 g
Size: 150x70 mm
Quality: Prooflike
Mintage: 5000

The pure silver banknote shows the charming tiger on a highly detailed five gram silver banknote. This special banknote shows wonderfully the contrast between the different silver finishes as well as the brilliant color that has been expertly applied. This note carries a Legal Tender denomination of 100 Togrog and is limited to only 5,000 pieces.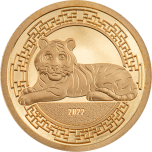 Country: Mongolia
Year: 2022
Face Value: 1000 Togrog
Gold: 99.99%
Weigh: t0.5 g
Size: 11 mm
Quality: Proof
Mintage: 5000
The charming tiger is proudly displayed on a 0.5 gram gold proof. Meant as a perfect complement to the silver coin and banknote, you will see the image of the tiger which is similar to the way the one ounce shaped coin looks. The tiger is encircled by a highly detailed border and carries a mintage of only 5,000 pieces
99,00 €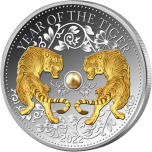 Country: Fiji
Year: 2021
Face Value: 10 Dollar
Silver: 99.9%
Weight: 31.1 g
Diameter: 40 mm
Quality: Proof
Mintage: 8888 pcs
The 1 oz coin features a powerful ox and a glossy blue Freshwater Pearl!
139,00 €