Faust Vrančić's Innovations. Croatia 4€ 2023 99,99% silver coin 1 oz
Country: Croatia Croatia
Mintage year: 2023
Issue date: 30.06.2023
Face value: 4 euro
Diameter: 38.60 mm
Weight: 31.10 g
Silver: 99,99%
Quality: BU
Mintage: 15,000 pcs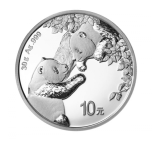 Denomination: 10 CNY
Mintage: 10 000 000
Fine Silver 99.9 %
Weight 30,030 g
Diameter: 40 mm
Quality: BU
Year 2023
Pandas are unique animals that have captured the imagination of people both within China and the West. Their black and white furs combined with their deceptively docile and bear-like appearance have led to their likeness appearing on this silver coin, the latest of which is this 2023 issue. The Chinese Pandas have been released annually since 1982 and are a popular choice for both investors and collectors alike.
The coin features a new reverse design of the sister panda climbing up a tree to see her brother that is peering from the top of a tree.
The reverse side of the coin features the famous Temple of Heaven found in Beijing along with the Chinese inscription above the image reading "The People's Republic of China" and the year "2023".
45,00 €