Archive box LOGIK A5, inner size 200 X 168 mm, Black
Black archive box for letters, postcards, stockcards, etc. up to 220 x 168 mm  in size. 3 removable dividers allows flexible inner division. The high stability provides permanent protection. Metal handle with space for an identifying label. Modern design. Capacity: approx. 700 postcards, 450 letters, 500 stockcards, 700 index cards, 750 banknote sheets, coin sets and more. Overall size: 230 x 173 x 270  mm  
This box actively protects your collection from oxidation and ageing thanks to the INTERCEPT® material inside. Suited to protecting coins, medals and paper. Suitable for coin sets, postcards, letters, stockcards, documents etc., up to 180 x 160 mm (7 x 6 1/4") in size. Overall size: 331 x 160 x 185 mm (13 x 6 1/4 x 7 1/4").
The way an INTERCEPT® box works is based on over 30 years of patented INTERCEPT® technology: the copper particles contained in the material permanently bond with corrosive gases and create a neutralised atmosphere in the shortest time possible, protecting the coins and documents from tarnishing (Guaranteed protection up to 15 years*!). This method has been proven in line with approved DIN, EN, ISO and ASTM standards. In order to prolong the effectiveness of the INTERCEPT® box beyond 15 years, it is recommended that you close the box immediately after use and avoid opening it frequently.
Box material: cardboard (2 mm thick)
*The effect duration will significantly exceed the specified 15 years under normal storage conditions! Very unfavorable conditions (e.g. exceptionally high air pollution or the constant opening of the capsules / boxes) could cause the effectivity of the Intercept materials to be used up prior to the 15 years. When the potential of the material has been exhausted, the film will turn a dark grey to green color (not the coins!). When this discoloration occurs, you should replace the product with a new one.
45,00 €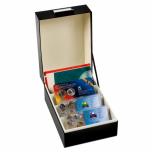 Black archive box for postcards, letters, index cards, coin sets, banknotes and much more up to a size of 170 x 120 mm (DIN C6, 6 3/4 x 4 3/4"). Flexible inner division thanks to 3 removable dividers. The high stability provides permanent protection. Metal handle with space for an identifying label. Modern design. Capacity: approx. 700 postcards, 450 letters, 500 stockcards, 700 index cards, 750 small banknote sheets, coin sets and more. Overall size: 180 x 126 x 270 mm 
29,90 €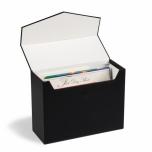 Black archive box for postcards, letters, index cards, coin sets, banknotes and other collectors' items up to a format of 220 x 168 mm / 8 5/8 x 6 5/8" (DIN A5). Modern design. With secure magnet closure. Capacity: approx. 245 postcards, 140 letters, 175 stockcards, 245 index cards, 260 banknote sheets, coin sets and more. Overall size: 232 x 177 x 97 mm
24,90 €