2015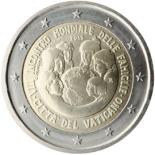 Feature: 30th anniversary of the Coming of Age and Political Rights to the Men and Women turning 18 years old
Description: The design shows a partial reproduction of a young person casting a vote. The ballot that the figure is holding reproduces the inscription 'ANDORRA'. To the left of the figure there are the years that are being commemorated '1985' and '2015' (the latter is the year of issue of the coin as well). A shorter inscription of the commemoration surrounds the whole design '30è ANIVERSARI MAJORIA D'EDAT ALS 18 ANYS' (30th anniversary Coming of Age at 18 years old). The coin's outer ring bears the 12 stars of the European Union.
Issuing volume: 85 000 coins
Issuing date: December 2015
45,00 €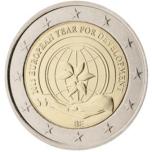 Feature: 2015 – European Year for Development
Description: The inner part of the coin depicts a hand holding a globe of the Earth with a plant in the foreground. The inscription '2015 EUROPEAN YEAR FOR DEVELOPMENT' features in an arc above the globe. The country code 'BE' appears beneath the hand while the signature mark of the Master of the Mint and the mark of the Brussels mint, a helmeted profile of the archangel Michael, are to its left. The coin's outer ring bears the 12 stars of the European Union.
Issuing volume: 250 000 coins
Issuing date: September 2015
19,00 €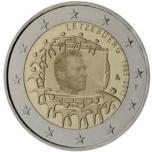 Motiiv: ELi lipu 30. aastapäev
Kirjeldus: mündil on kujutatud ELi lippu kui sümbolit, mis ühendab rahvaid ja kultuure, kellel on ühesugune kujutlus paremast ühisest tulevikust ja ühised ideaalid. Kaksteist tähte, mille ümber on inimkujutised, sümboliseerivad uue Euroopa sündi. Üleval paremal on poolkaares käibele laskva riigi nimi ja aastaarvud 1985–2015. All paremal on kunstniku (Georgios Stamatopoulos) nimetähed. Mündi välisringil on kujutatud Euroopa Liidu lipu 12 tähte.
Emissiooni maht: 510 000
Emissiooni aeg: 2015. aasta neljas kvartal
7,00 €