To the Birth of a Child. Crystal Coin - Niue Island 2$ 2021. 99,9% silver coin with cut Bohemian crystal, 1 oz
Silver: 99.9%
Weight: 31.1 g
Diameter: 50 mm
Mintage: 600 pcs
Packaging: Blue paper case
Nominal value: 2 NZD

Celebrations of a new birth take different forms in different countries. Americans celebrate in advance, so the party takes place three weeks before childbirth and it is accompanied by a wealth of useful gifts. In Germany, on the contrary, they believe that giving presents or organizing celebrations before the baby is born brings bad luck. Russians, like Americans, enjoy practical things, therefore, congratulators often take care of the complete kit. Mexicans carry cigars into the families where the baby boy was born, otherwise the gift is chocolate. They also enjoy special sweet gifts in the Netherlands, Belgium or Iran. And what about the Czechs? They began to rediscover the magic of a precious metal coin given in the cradle. But most mothers, regardless of nationality, certainly agree that organizing the celebrations is the last thing they think about before and after coming back from the maternity hospital. On the contrary, almost any culture must not miss daddy's drinking …

The reverse side of the commemorative coin presents a combination of embossed relief, cut Bohemian crystal and traditional symbolism. The feet of a newborn baby are tiny, fragile, and cute - they grow like a weed and commemorate the moment of how tiny the baby was when his parents brought it home. The coin was processed by medal maker Irena Hradecká, DiS. The legs complement other children motifs along with an Czech-English inscription K NAROZENÍ DÍTĚTE - NEWBORN BABY. Since the Czech Mint coins are issued with the license of a foreign issuer, the island of Niue, their obverse sides bear its necessary attributes - the nominal value of 2 DOLLARS (NZD), the year of the issue 2021, the name of Elizabeth II. and the portrait of Queen surrounded by a series of footprints.

The 2020 coin comes in a limited edition of 600 pieces and presents an original yet traditional gift.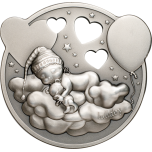 Country: Cook Islands (
Year: 2019
Face Value: 5 $
Silver: 99.9%
Weight: 1 oz
Size: 38.61 mm
Quality: Antique finish
Mintage: 999
Technique: smartminting
How can one ounce of cold, hard metal transcend the materialistic plane and evoke emotions of peacefulness, tranquility and contentment? Lullaby did just that in 2018 with the heart-warming sleeping boy coin displayed in a musical box playing a lullaby tune. One year later the anticipated twin coin illustrating a sleeping baby girl completes the whimisical numismatic set.
Any parent, grand-parent, uncle, aunt or godparent will cherrish this coin and immediately picture their little princess sleeping in the serene comfort and sanctuary of her mother's arms.
The remarkable specifications of the Sleeping Girl match those of its predecessor with an antique surface finish and three cut-out hearts accompanies a frame bursting heart and balloon. Struck in smartminting, Lullaby is once again delivered in an elaborate, pink musical box* that displays the coin on a rotating pedestal in front of an oval mirror.
A perfect add-on or supplement to the new Lullaby coin is the Golden Dummy, part of CIT's extensive special shapes series.
*please note: silver coin and musical box are not toys and should be kept out of reach of small children.
169,00 €