The Titanic's wreck discovery. Solomon Islands 10$ 2021 99,9% Silver Coin 3 Oz
Spectacular combination of Ultra High Relief, Incuse-Striking and Translucent Enamel!
3 oz of pure Silver
Only 999 pieces worldwide!

Weight 3 oz
Silver 99.9%
Diameter 50 mm
Quality Antique Finish
Issuing Country: Solomon Islands
Year Date: 2021
Special Feature: Extra High Relief with translucent blue enamel
Mintage: 999
Face Value: 10 Dollars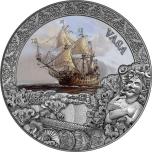 Face Value: 5 Dollars
Weight 2 oz
Silver: 999
Diameter 50 mm
Quality Antique Finish
Issuing Country: Niue
Year Date: 2020
Mintage: 500
Vasa" was a Swedish ship, which was considered the most high-tech warship of those times. The story of what happened to the ship still remains a mystery among experts. Despite being one of the Swedish navy's biggest achievements, Vasa sank within twenty minutes of setting sail, on this day in 1628. It claims 30 lives.
Engineering problems sank the ship – but this disaster has become a boon for archaeologists. In the XXI century, it was pulled from the bay and 98% of the ship's original wood was still intact, making it the world's best-preserved ship.
The remains of the ship can be found in Stockholm's Vasa Museum. According to the museum, it is the only preserved 17th-century ship in the world, and the museum is a place for historical and anthropological study as well as for visitors from all over the world.
"The most spectacular warship ever built" is beautifully depicted on this coin.
279,00 €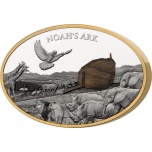 Face value: 10 $
Issuing contry: Solomon Island
Weight: 3 oz
Silver: 99.9%
Dimentions: 60 x 42 mm
Mintage: 1614
NOAH'S ARK
- Genuine olive wood from Armenia where Noah's Ark was supposedly found!
- World's first oval coin with wood inlay in a cut-out!
- Gold and white rhodium application with selective Chromonite colouring!
Noah's Ark is mentioned in the biblical book Genesis, Chapter 6-9. Noah was chosen by God, who warned him that a high tide would be coming in soon. He was ordered to build an Ark, in order to save his family and to save all land animals by taking a pair of each of them aboard.
This one-of-a-kind 3 oz. coin with gold and white rhodium application is depicting the tale in great detail, using even original olive wood from Armenia, where the remains of Noah's Ark were supposedly discovered
359,00 €