The Titanic's wreck discovery. Solomon Islands 10$ 2021 99,9% Silver Coin 3 Oz
Spectacular combination of Ultra High Relief, Incuse-Striking and Translucent Enamel!
3 oz of pure Silver
Only 999 pieces worldwide!

Weight 3 oz
Silver 99.9%
Diameter 50 mm
Quality Antique Finish
Issuing Country: Solomon Islands
Year Date: 2021
Special Feature: Extra High Relief with translucent blue enamel
Mintage: 999
Face Value: 10 Dollars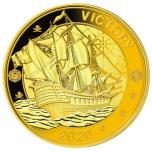 Ahoy! Discover Captain La Buse's hidden treasure!
3 Coin Set "Pirates of the Indian Ocean"
Weight: 3 x 29 g
Metal: Copper, 24K Gold-plating
Diameter: 40 mm
Quality: Proof like
Issuing Country: Seychelles
Year Date: 2020
Special Feature Gold plating, High Relief
Mintage: 5,000 each
Face Value: 1 Rupee
The notorious French Pirate "La Buse" is known for leaving behind a great fortune that has never been found. Even today seekers are still looking for the treasure which is presumed to lie near the Seychelles - the issuing country of this set!
Worth capturing - this set includes a bag full of real coins coming in a treasure chest with Certificate of Authenticity!
Great value for money product!
115,00 €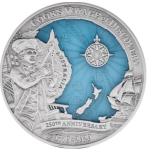 Spectacular combination of Ultra High Relief, Incuse-Striking and Translucent Enamel!
3 oz of pure Silver
Only 500 pieces worldwide!
Weight 3 oz
Silver 99.9%
Diameter 50 mm
Quality Antique Finish
Issuing Country Solomon Islands
Year Date 2020
Special Feature
Extra High Relief with translucent blue enamel
Mintage 500
Face Value 10 Dollars
This beautiful 3 Oz Silver coin is dedicated to the 250th anniversary of one of the most famous navigators of all times – James Cook. The coin has a beautiful marine-blue Enamel that creates a stunning 3D-effect, has an Antique Finish quality and comes in a case, along with the Certificate of Authenticity. Limited mintage to 500 pieces worldwide.
245,00 €