Symbols of Life - Dragon. Barbados 10$ 2021 gold coin /pedant
Country: Barbados
Denomination: 10 Dollars
Year: 2021
Quality: Prooflike
Material Gold / Silver
Pureness: 9999 / 925
Weight: 1g / 9,1 g
Diameter: 11 mm / 40 mm
Mintage: 2,021
Special: Delivery with band to wear as jewelry

Finest Minting combined with delicate craftmanship 24K gold-plated, palladineted and rhodinated!

Jewelry and legel tender in one beautiful necklace!

The dragon is a mythical creature, which is found in many mythologies where it assumes a variety of roles. It has been at the heart of numerous rituals and festivals,
standing as a bringer of good fortune and a symbol of fertility. This life-giving, magical creature is the motif for our latest "Symbols of Life issue.
A finest gold coin in Piedfort shows the head of the dragon. It's surrounded by a circle made of the finest sterling silver and plated with gold,
depicting the body of this mighty dragon.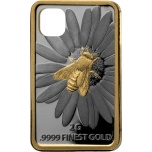 Face Value 10$ Solomon Islands
Gold: 99,99% and Black rhodium application!
Weight: 2 g
Dimentions: 11,5 x 19 mm
Mintage 1500
For the first time, the charm of this year's Coin Jewelry "Honeybee" has been refined with black rhodium. The bee not only plays an immensely important role in nature,
it also brings a lot of aesthetics to this piece of jewelry.
Gold jewelry is usually made of 14K (585) and occasionally of 18K (750) gold. This series is a very rare exception: its 24K finess is not just 999, but even 9999
finest gold. Being an official coin, its value is guaranteed by the issuing authorities.
319,00 €