Supplement 2022 for Classic-Optima "35 years of the Erasmus programme"
Illustrated album pages featuring images and information on the respective year. Background information is written in German.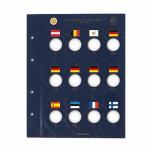 Blue colour, OPTIMA format 20 x 25 cm, 4-ring reinforced holes. For labeling we recommend the sticker- set LEEURO 3. (321082)  fits for all OPTIMA-binder. 
8,90 €