Slovakia 2€ commemorative coin 2023 - 100th anniversary of the first blood transfusion in Slovakia
Tiraaž; 1 miljon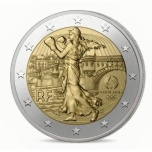 Feature: Olympic Games Paris 2024
The Summer Olympic games that will take place in Paris are the opportunity, for Monnaie de Paris to celebrate this major international competition through a series celebrating Sport, its values,the athletes but also the heritage of the host country. Olympism and Paralympism will be highlighted on those products, struck in France in our art workshops.
Following the postponement of the Tokyo Olympic Games, the year 2021 officially marks the beginning of the countdown to the Paris Games. It is the handingover of the Olympic flag during the closing ceremony of the previous Games that marks the starting point of a new era of Games in France. This Handover will bedepicted in the series. 2021 is also the first year of a quadrilogy in which sport and its values will be honored through the Monnaie de Paris' coin and medallions collections. To mark the countdown to the launch of the Games, Monnaie de Paris will issue a €2 commemorative coin for four years from 2021. These coins will highlighting the Olympic Games through famous French numismatic figures.
After Marianne and the Genius, this coin presents the Sower, practicing pugilism.
Issuing volume: 5 x 50 000 coins
Issuing date: 2023
25,00 €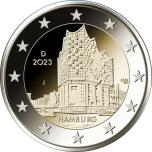 Feature: Bundesländer series –
22,00 €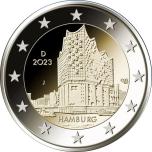 Feature: Bundeslander series – Thuringia
Description: : The design shows Wartburg Castle, the first German castle to be listed as a UNESCO World Heritage Site. The inner part also features the name 'THÜRINGEN' and the issuing country's country code 'D' at the bottom, the mint mark of the respective mint ('A', 'D', 'F', 'G' or 'J') as well as the engraver's mark on the right and the the year '2022' on the left. The artist: Olaf Stoy (Rabenau). The coin's outer ring bears the 12 stars of the European flag.
Issuing volume: 30 000 000 coins
Issuing date: 25 January 2022
7,00 €