Remembering RMS Titanic. Solomon Islands 10$ 2021 99,9% Silver Coin 3 oz
Spectacular combination of Ultra High Relief, Incuse-Striking and Translucent Enamel!
3 oz of pure Silver
Only 999 pieces worldwide!

Weight 3 oz
Silver 99.9%
Diameter 50 mm
Quality Antique Finish
Issuing Country: Solomon Islands
Year Date: 2021
Special Feature: Extra High Relief with translucent blue enamel
Mintage: 999
Face Value: 10 Dollars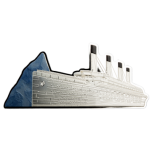 Face Value: 10 Dollars
Issuing Country: Solomon Islands
Weight 5 oz
Silver 99.9%
Diameter 106 x 48,6 mm
Quality Prooflike
Year Date: 2022
Special Feature: Special shape. Partial Colouring
Mintage: 750
Remembering the "Ship of Dreams"
In honor of the 110th anniversary of RMS Titanic
Realistic and detailed 3D depiction of the most famous ship in history in front of the ice berg remembering one of the greatest tragedies of our times.
The shipping route and coordinates of the Titanic's final resting place in combination with a compass framing the effigy of Queen Elizabeth II. are struck on the obverse of the coin.
Impressive and highly detailed special shaped coin struck from 5 oz pure Silver and strictly limited to only 750 coins.
429,00 €