Platinum Jubilee of Elizabeth II - New Zealand 1 $ 2022 99,9% Silver Proof coin with gold plating and colour printing 1 oz.
Face value 1$
Silver: 99,9%
Diameter: 38,6 mm
Weight: 31,1 g
Mintage: 1 000

Born on April the 21st 1926, Queen Elizabeth II turns 95 in 2021. Thrust upon the throne at the tender age of 25, Elizabeth II became Britain's longest reigning monarch in 2015. She became the world's longest reigning living monarch in 2016, and is currently the 4th longest reigning monarch in recorded history! Well known for her sense of duty, Elizabeth II has devoted her life to the service of Great Britain and the Commonwealth, and is loved and respected by millions of people.

The coin is dedicated to the celebration of the 70th anniversary of the reign of Her Majesty Queen Elizabeth II. The Platinum Anniversary is a national celebration and is celebrated throughout the UK. Elizabeth II ascended the throne on February 6, 1952, and is thus the longest-lived and longest-reigning British monarch, the longest-reigning female head of state in history, the oldest living and reigning monarch, and the oldest and longest-reigning head of state.

The coin is covered with colored enamel and partially gilded. Differs in small circulation.

Obverse: color portrait of Her Majesty Queen Elizabeth II, platinum jubilee.

Reverse: portrait of Her Majesty Queen Elizabeth II, year of issue 2022.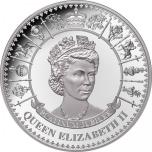 Country of legal tender: Tokelau
Face value: 5.00 $
Silver: 99.9%
Weight: 31,1 g
Maximum Mintage: 1952
Year Dated: 2022
The 2022 $5 Queen Elizabeth II Jubilee 1oz Silver Proof Coin honours a remarkable moment in the history of the Commonwealth, and indeed the world, the illustrious 70-year reign of a rare monarch!
189,00 €