Phoenix and Dragon Oriental Culture Collection 50g Antique finish Silver Coin 10 Cedis Republic of Ghana 2021
Face Value: 10 sedi
Issuing Country: Ghana
Weight 50 g
Silver: 999
Diameter 50 mm
Quality Antique Finish
Year Date: 2021
Mintage: 888

Phoenix and Dragon are believed to be a perfect couple and representation of love in Feng Shui. That is why they are an auspicious symbol, which invites matrimony bliss. They embody a husband and wife, whose love is so strong that it makes them stick together through thick and thin.

This beautiful coin was created as a lucky talisman, which is not only a good piece for a pair, bringing them a fruitful marriage blessed with a great deal of success and prosperity, but also is an amulet for single people, who are seeking to find a partner and start a happy family.

Thanks to the digital printing technique, it was managed to render this contrast between Dragon and Phoenix - male vigour and female beauty!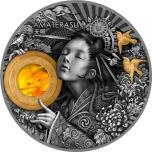 Nominal value 5 $
Silver: 99.9%
Weight: 3 oz
Dimensions: 55 mm
Maximum Mintage 7,500
Finish: Proof
Amaterasu Omikami is translated from Japanese as "Great Divinity Illuminating Heaven". In Japanese mythology, Amaterasu is a celestial sun goddess and important Shinto deity. She symbolizes fertility and makes plants grow, which give life not only to humans but also to the gods. As the guardian of the Japanese people, she is represented by the emblem of the rising sun on the Japanese flag.
The coin wonderfully depicts Amaterasu, who is holding the mirror in her hands. This mirror reflects the divine origin of the sun goddess. Such decorations as an amber inset and gilding elements give a perfect touch to the design of this coin.
499,00 €