Peter Carl Fabergé – Rose Trellis. Mongolia 1000 Togrog 2021 selectively gilded 99,9% silver coin 2oz
Country: Mongolia
Year; 2021
Face Value: 1000 Togrog
Metal; Silver .999
Weight; 2 oz
Size; 38.61 mm
Quality: Proof
Mintage; 888
Techniquesmartminting

CIT is very proud to release the 2nd edition of a coin honoring a very famous work of art! Fabergé Eggs are known as priceless treasures that were specifically made for Royalty and some of the wealthiest families in the world. Last year for the 100th anniversary of Peter Carl Fabergé's passing, we brought out the first Fabergé Egg which sold out very quickly.

This time the coin is dedicated to the famous Rose Trellis Egg which was created in Saint Petersburg under the supervision of Peter Carl Fabergé. Much of the work was done by his workmaster Henrik Wigström in 1907. The Rose Trellis Egg was a gift from Tsar Nicholas II to his wife, Alexandra Fedorovna commemorating the birth of their son. Each of Fabergé's Imperial eggs contained a surprise, to delight the tsarevich. This particular egg hid a diamond necklace and an ivory miniature portrait of Alexandra Fedorovna framed in diamonds — unfortunately, these items are now lost to history.

Peter Carl Fabergé is a registrated trade mark of Fabergeé (UK) Limited (www.faberge.com) and is used with the consent of Fabergé (UK) Limited."
Video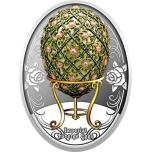 Nominal value 5 $
Silver: 99.9%
Weight: 16,81 g
Maximum Mintage 499
Dimentions: 292 x 38 mm
Finish: Proof
This incredible silver coin is the third issue from the "Fabergé Eggs" series. It depicts "Rose Trellis Egg" – a gift to Empress Alexandra Fedorovna, which was created in 1907.
"Rose Trellis Egg" has been executed in a sentimental style. Vining roses constitute the main decorative motif of the egg, which alludes to the pastime enjoyed by the Empress, who used to surround herself with flowers in bloom. The coin is inspired by the jubilee piece of art. It is created from the finest silver. The "Rose Trellis Egg" coin is created in the shape of an egg and is decorated with digital printing.
The reverse of the coin is made in a sentimental style and features a beautiful "Rose Trellis Egg". The obverse of the coin represents the effigy of Her Majesty Queen Elizabeth II surrounded by an intricate design. It comes in an elegant case together with the Certificate of Authenticity. The mintage is limited to only 499 pieces for global distribution.
A dream of every collector who is fond of luxurious items! A great gift for the connoisseur of art and beautiful items! A true symbol of prestige and luxury!
129,00 €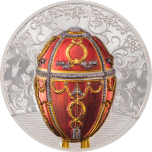 Country: Mongolia
Year; 2022
Face Value: 1000 Togrog
Silver: 99,9%
Weight: 2 oz
Mintage: 888
Smartminting
This amazing coin is CIT's 3rd release in a series honoring the famous Fabergé eggs. The first two editions were sold out immediately and we expect this gorgeous specimen to do the same. This coin honors the famous "Rosebud" Fabergé egg. Originally created by Michael Perchin under the careful eye of master jeweler Peter Carl Fabergé in 1895, it was given to Empress Alexandra Feodorovna by Czar Nicholas II of Russia. The magnificent egg was created to remind the Empress of the yellow roses that she missed dearly from her homelands.
The egg itself is covered in red enamel and decorated with wreaths and swags of varicolored gold. There are four bands of rose-cut diamonds that run vertically across the egg and each end also had diamonds. One end shows a miniature picture of Nicholas II and the other end shows the year 1895. As with most Fabergé eggs, there were surprises inside. The first surprise was an enameled yellow rose that opened up and revealed a miniature Imperial crown made of rose-cut diamonds and two cabochon rubies. The other surprise is a ruby pendant. Both surprises are lost to history but the enameled yellow rose remains. The egg now sits in the Fabergé Museum in Saint Petersburg, Russia and was part of a 9-egg collection that was purchased from Malcom Forbes for $100 million.
Our 2-ounce silver proof is a worthy tribute to this impressive treasure and captures all of the colorful details of the original. The high relief showcases all the golden ridges and the bright red color of the enamel. This beautiful egg is set against an elegant and ornate proof silver background. Only 888 will be struck.
Peter Carl Fabergé is a registrated trade mark of Fabergeé (UK) Limited (www.faberge.com) and is used with the consent of Fabergé (UK) Limited."
225,00 €