My First Capital, My First Treasures. Niue 1$ 2021 1/2 oz 99,9% silver coin
Face value: 1 $
Silver: 99.9%
Weight: 15,5 g
Diameter 40 mm
Mintage 1 000

One of the most profound and wonderful experiences in a lifetime is to become a parent. You can't understand what it is until you actually have a child. And of course, you should give your child the best that you can - your time, your love, your care. To put it shortly, you should devote your life to your baby, if you want to raise him a good and happy person. And sometimes you want to highlight your love and present your baby something symbolic and precious that will be the beginning of your baby's successful future and will bring luck. "My First Capital" coin is what you are looking for!

Every parent wants the best for their child. That is why this coin can be a great gift idea for a baby expressing the best wishes for many occasions: birthday, christening or just for no reason.

"My first treasures" is a unique series of coins, which starts with "My first capital" coin. The coin has a one-of-a-kind design. It depicts a baby with toys such as a teddy bear, rocking horse, and stacking rings on one side and with money like a beautifully gilded Bitcoin, coins, and bullions on the other side.

This coin represents the first capital in life and is a symbol of the successful future for your child. It will be a first treasure that falls into the hands of your baby!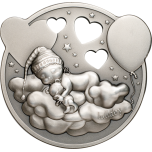 Country: Cook Islands (
Year: 2019
Face Value: 5 $
Silver: 99.9%
Weight: 1 oz
Size: 38.61 mm
Quality: Antique finish
Mintage: 999
Technique: smartminting
How can one ounce of cold, hard metal transcend the materialistic plane and evoke emotions of peacefulness, tranquility and contentment? Lullaby did just that in 2018 with the heart-warming sleeping boy coin displayed in a musical box playing a lullaby tune. One year later the anticipated twin coin illustrating a sleeping baby girl completes the whimisical numismatic set.
Any parent, grand-parent, uncle, aunt or godparent will cherrish this coin and immediately picture their little princess sleeping in the serene comfort and sanctuary of her mother's arms.
The remarkable specifications of the Sleeping Girl match those of its predecessor with an antique surface finish and three cut-out hearts accompanies a frame bursting heart and balloon. Struck in smartminting, Lullaby is once again delivered in an elaborate, pink musical box* that displays the coin on a rotating pedestal in front of an oval mirror.
A perfect add-on or supplement to the new Lullaby coin is the Golden Dummy, part of CIT's extensive special shapes series.
*please note: silver coin and musical box are not toys and should be kept out of reach of small children.
169,00 €