Madonna of the Goldfinch Raffaello Sanzio Proof Silver Coin 500 Francs Cameroon 2020
Face Value: 500 Fr
Issuing Country: Cameroon
Weight 17,9 g
Silver: 999
Diameter 50 mm
Quality: proof
Year Date: 2020
Mintage: 300

This awesome silver coin is dedicated to the "Madonna of the Goldfinch" - one of the most recognizable paintings of the Blessed Virgin Mary created by Raffaello Sanzio.

The center of the painting portrays Madonna with Jesus Christ and John the Baptist depicted as babies. The painting is rich in symbols with a goldfinch representing the crucifixion of Christ.

The coin has timeless religious theme of Marian veneration. It is decorated with high-end digital printing. The reverse of the coin depicts the "Madonna of the Goldfinch" painting and as in most of the Madonnas of his Florentine period, Raphael arranged the three figures - Mary, Christ and the young John the Baptist - to fit into a geometrical design. The obverse of the coin features the Coat of Arms of Cameroon. It comes in a presentation box made in the form of a frame.

The coin has a high cultural and numismatic value. It is considered a precious souvenir featuring the work of art by Raphael Santi that will enchant the connoisseurs of art and become the highlight of your already impressive collection.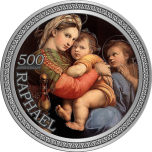 Face Value: 10 cedi
Issuing Country: Ghana
Weight 50 g
Silver: 999
Diameter 50 mm
Quality: antique finish
Year Date: 2020
Mintage: 500
2020 marks the 500th anniversary of the death of a famous Italian painter and architect Raphael. Together with Michelangelo and Leonardo da Vinci, Raffaello Sanzio da Urbino was one of three undisputed masters at the apogee of High Renaissance.
In circa 1513-1514, this well-know artist created his masterpiece – the «Madonna Della Seggiola» painting. It portrays Mary embracing the child Christ, while the young John the Baptist devoutly watches. The coin is dedicated to this painting and perfectly depicts it. Thanks to the digital printing technique, it was managed to render the painting as realistic as possible. In 1858, Nathaniel Hawthorne called this painting "the most beautiful picture in the world" after having seen it through "a hundred engravings and copies".
A true masterpiece minted in fine silver!
199,00 €