Lunar Year of the Dragon 2024. Burundi 25 Francs 2023 2 oz 99.9% silver coin with real jade
Country Burundi
Year 2023
Face Value: 2000 Kip
Silver: 99,9%
Weight: 62.2 g
Diameter: 55 mm
Quality: Proof
Mintage: 1.888 pcs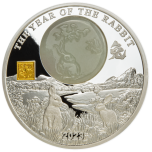 Country Burundi
Year 2023
Face Value: 2000 Kip
Silver: 99,9%
Weight: 62.2 g
Diameter: 55 mm
Quality: Proof
Mintage: 1.888 pcs
295,00 €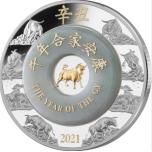 Country Laos
Year 2020
Face Value: 2000 Kip
Silver: 99,9%
Weight: 62.2 g
Diameter: 55 mm
Quality: Proof
Mintage: 2.888 pcs
This beautiful 2 Oz Silver coin is dedicated to those born under the Chinese lunar year of the Ox, known to be generous, brave and ambitious persons. The coin has a real ring shaped Burmese Jade insert, has a selective Gold plating, has a Proof quality and comes in a presentation case, along with the Certificate of Authenticity. Limited mintage to 2.888 pieces worldwide.
295,00 €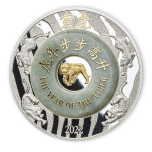 Country Laos
Year 2022
Face Value: 2000 Kip
Silver: 99,9%
Weight: 62.2 g
Diameter: 55 mm
Quality: Proof
Mintage: 2.888 pcs
295,00 €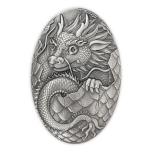 Face value: 250 Francs
Weight: 5 oz
Silver: 99,9%
Diameter: 50 x 70 mm
Antique finish
Mintage: 488 coins
Special edition to celebrate the Year of The Dragon 2024
A newly hatched dragon impresses with highly detailed relief and comes to life with its outstanding finish.
Coveted piece of art made from 5 oz of .999 pure Silver, the Chinese Dragon Egg makes an exquisite gift for new beginnings and special occasions.
Only 488 pcs worldwide – secure this rare collectible item and celebrate one of the most iconic creatures of the Lunar calendar.
399,00 €