Ludwig V Beethoven 250th Anniversary 1$ Fiji 2020 1 oz 99,9% silver coin
Country: Fiji
Year: 2020
Face Value: 1 Dollar
Silver: 99.9%
Weight: 31.1 g
Quality: Proof
Mintage: 2.500 pcs

This stunning 1oz silver coin is dedicated to the 250th Anniversary of one of the most played classic composer of all time : Ludwig van Beethoven. This coin comes under blister.

Limited mintage of 2.500 pieces worldwide.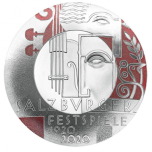 Date of Issue 22 January 2020
Quality Proof
Face Value: 20 Euro
Coin Design: Mag. Helmut Andexlinger
Diameter: 34.00 mm
Silver: 92,5%
Total Weight 22.42 g
Packaging Comes in a case complete with a numbered certificate of authenticity and protective slipcase
One of the world's leading opera, theatre and classical music festivals, the Salzburg Festival celebrates its centenary in 2020. Featuring opera, theatre and classical concerts, the Salzburg Festival offers a broader spectrum of cultural variety than any other. To celebrate this major cultural event, which is constantly in the process of reinventing itself, we have come up with a particularly innovative coin design.
On 22 August 1920, the director Max Reinhardt staged Hugo von Hofmannsthal's morality play Jedermann in Salzburg's Domplatz (Cathedral Square) for the first time and in doing so
founded the Salzburg Festival. Since 1926, the play has been a permanent feature of the festival programme, a tradition interrupted only during the Nazi regime. Those who stage or direct Jedermann in Salzburg's Domplatz have reached the pinnacle of their career.
In addition to Max Reinhardt and Hugo von Hofmannsthal, the composer Richard Strauss was also involved in the founding of this magnificent celebration of the performing arts, which did not take long to become established and achieve world renown. At Salzburg, the best is often not good enough. This gives the festival cultural relevance, which comes from its strength of tradition but also allows new directions to be explored and puts the avant-garde centre stage. This very special centenary coin is avant-garde itself. With an obverse that has the appearance of a plate with a flat inner part, a coin of this type has never been minted before. We believe it does the Salzburg Festival justice.
89,00 €