Harry Potter. Samoa Islands 50 $ 2021. 99,9% gold coin, 0,5 g
Face value: 50$
Issuing Country: Salomon Island
Weight: 0,5 gr
Gold: 99.9%
Diameter: 11 mm
Quality Proof like
Mintage: 5 000
Year Date: 2021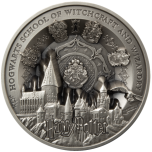 Weight: 1000 g (1 kilo)
Silver: 99,9%
Diameter: 100 mm
Face value: 25 $
Antique finish
Mintage: 199 coins
DISCOVER THE WIZARDING WORLD
Immerse into the magical world of Harry Potter!
• This special multi layer technique creates a stunning 3D effect on the 1kg Silver Coin.
• Magical symbols and patterns from the Harry Potter Saga frame the centerpiece of the coin: The Hogwarts Castle.
• The .999 pure Silver Giant comes in a high-quality box to protect the coin.
• Low mintage of only 199 worldwide!
2249,00 €