Forever Yours Heart Shaped 99,9% silver coin Tokelau 1$ 2019, 20 g
Silver: 99.9%
Weight: 20g
Denomination: NZD 1.00
Shape: Heart-shaped
Country of legal tender: Tokelau
Maximum Mintage: 1500
Year Dated: 2019

The cupid angels in this design have been created in a classical style and beautifully sculpted with a background of flowers and leaves. Three of the flowers have been highlighted in colour with digital prancing and the design also features the lettering "Forever Yours".

This beautiful Tokelau 20g pure silver coin is minted to proof quality and the obverse features Her Majesty Queen Elizabeth II, as monarch of Tokelau, together with the monetary denomination and year of issue.

Beautifully packaged in a red heart-shaped presentation case with a serially numbered certificate of authenticity, each coin is part of a limited edition of just 1500 pieces.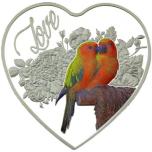 Diameter: 40mm
Silver: 99.9%
Weight: 20g
Monetary Denomination: NZD 1.00
Shape: Heart-shaped
Country of legal tender: Tokelau
Maximum Mintage: 1000
Year Dated: 2018
This gorgeous design shows a pair of love birds perched companionably together on a branch with stunning peonies in the background. The birds and the perch they are sitting on are highlighted in colour while the peonies and the word 'Love' is minted in the highest frosted proof quality.
Each coin is made from 20g fine silver and carries the image of Her Majesty Queen Elizabeth II on the obverse with a monetary denomination of 1 Dollar.
This is a limited edition coin and what more lovely symbol of lasting love and affection is there than these colourful lovebirds!