Forever Yours Heart Shaped 99,9% silver coin Tokelau 1$ 2019, 20 g
Silver: 99.9%
Weight: 20g
Denomination: NZD 1.00
Shape: Heart-shaped
Country of legal tender: Tokelau
Maximum Mintage: 1500
Year Dated: 2019

The cupid angels in this design have been created in a classical style and beautifully sculpted with a background of flowers and leaves. Three of the flowers have been highlighted in colour with digital prancing and the design also features the lettering "Forever Yours".

This beautiful Tokelau 20g pure silver coin is minted to proof quality and the obverse features Her Majesty Queen Elizabeth II, as monarch of Tokelau, together with the monetary denomination and year of issue.

Beautifully packaged in a red heart-shaped presentation case with a serially numbered certificate of authenticity, each coin is part of a limited edition of just 1500 pieces.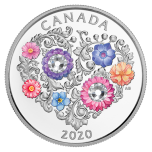 Silver: 99.99%
Weight: 7.96 g
Diameter: 27 mm
Face value; 3 dollars
Mintage: 15,000
Our Celebration of Love coin is a message that comes from the heart. Its colourful flowers reflect the different shades of love: zinnias for friendship; forget-me-nots for a timeless connection; cosmos for feelings that run deep; and daisies for pure admiration. It's the perfect symbol of commitment, appreciation and gratitude for the special bond represented by two Swarovski® crystals.
Is your special someone tired of getting flowers and chocolates? Then try this pure silver coin that celebrates your love.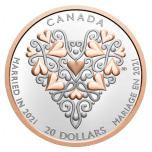 Face value: 20 dollars
Silver: 99.99%
Weight: 31.83 g
Diameter: 40 mm
Mintage: 10,000
It can be heard in the subtle softness of one's voice and touch; the smiles and laughter that linger between a couple long after the story has been told. Love can inspire displays of affection that can send the heart racing, just as it can be found in the smallest of everyday gestures. To truly love someone is to cherish them, to see the best in that person and value them for who they are; from the wordless communication of a gaze to the spellbinding chemistry of a kiss, the love shared between two people is a precious gift that once found, should be celebrated and nurtured.
Going to a wedding this year? Need a special gift they will enjoy forever? Then celebrate that special moment in a couple's love story with this pure silver coin!
The reverse design by Canadian artist Sylvie Daigneault is a beautiful celebration of love and an artistic ode to marriage–an occasion when two individuals mark their commitment to one another. Fittingly, two different design elements—hearts and arabesque-style scrolls—come together in one intricately engraved pattern that forms a large heart shape. Also engraved on the reverse is the year "2021", the word "CANADA" and the face value "20 DOLLARS". The obverse features a pink gold-plated effigy of Her Majesty Queen Elizabeth II by Susanna Blunt.
Your coin is encapsulated and presented in a premium graphic box that will impress everyone with its beautiful appearance
125,00 €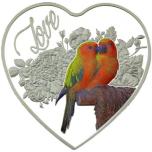 Diameter: 40mm
Silver: 99.9%
Weight: 20g
Monetary Denomination: NZD 1.00
Shape: Heart-shaped
Country of legal tender: Tokelau
Maximum Mintage: 1000
Year Dated: 2018
This gorgeous design shows a pair of love birds perched companionably together on a branch with stunning peonies in the background. The birds and the perch they are sitting on are highlighted in colour while the peonies and the word 'Love' is minted in the highest frosted proof quality.
Each coin is made from 20g fine silver and carries the image of Her Majesty Queen Elizabeth II on the obverse with a monetary denomination of 1 Dollar.
This is a limited edition coin and what more lovely symbol of lasting love and affection is there than these colourful lovebirds!