Floral Emblems of Canada. Pacific Dogwood. British Columbia Canada 3$ 2020 99,99% Silver Coloured Coin 7,96 g
Face value 3 dollars
Composition 99.99% pure silver
Finish reverse proof
Weight: 7.96 g
Diameter: 27 mm
Mintage 4,000

British Columbia's floral emblem isn't so much a flower, but a flowering tree– a unique trait that sets the Pacific dogwood apart from our other provincial and territorial blooms. The showy white flowers on our sixth Floral Emblems of Canada coin appear each spring, and occasionally in September too. The tree itself, Cornus nuttallii, is a four-season beauty that can grow as high as 18 metres. And while the flowering dogwood was a popular image in British Columbia prior to 1956, the Floral Emblem Act assured its position as the official symbol of Canada's westernmost province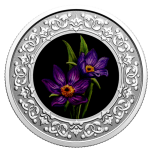 Face value 3 dollars
Composition 99.99% pure silver
Finish reverse proof
Weight: 7.96 g
Diameter: 27 mm
Mintage 4,000
While Iris versicolor can be found in marshes and along shorelines in central and eastern Canada, it has special meaning in the province of Quebec. This violet-blue wildflower is synonymous with wetlands, rivers and lakes in La belle province, where the provincial emblem blooms between late May and early July. Quebec was one of the first four Canadian provinces established by the British North America Act (Confederation) in 1867. And that's why its provincial flower is our second coin in our vintage jewellery-inspired Floral Emblems of Canada series. And, your coin's reverse features a colourful depiction of the blue flag iris, which gained official status as the floral emblem of Quebec in 1999.
A gorgeous gift of Quebec's beautiful blue flag iris for that special someone. Order today.
79,00 €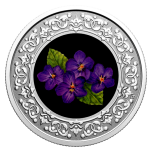 Face value 3 dollars
Composition 99.99% pure silver
Finish reverse proof
Weight: 7.96 g
Diameter: 27 mm
Mintage 4,000
The purple violet is a water-loving perennial herb–if it's not growing in water, it's likely growing near it. Its blue-centred blooms will catch your eye from May to July, when they add a punch of colour to meadows, bogs and open woodlands. New Brunswick's official flower is one of several Canadian emblems that were selected by means of public input.
79,00 €