Estonia 2€ commemorative coin 2019 - The centenary of the University of Tartu
Description: The coin will mark the centenary of the University of Tartu as being established as the first Estonian language university. It was founded in 1632 by Swedish King Gustav II Adolf and is one of the oldest universities in northern and eastern Europe. In 1919 it became the first Estonian language university. The design depicts a motif of the main building of the university. It also bears the inscriptions 'RAHVUSÜLIKOOL 100' (National University 100) and 'UNIVERSITAS TARTUENSIS', the year '1632', the issuing country 'EESTI' and the year of issuance '2019'. The coin's outer ring bears the 12 stars of the European flag.

Issuing volume: 1 000 000 coins

Issuing date: November 2019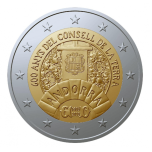 Feature: 600 years of the Council of the Land
Description: The design commemorates the 600th anniversary of the creation of the Consell de la Terra (Council of the Land). It was a representative body created in 1419, predecessor of the Consell General (General Council), the parliament of Andorra. The design depicts the upper part of the entry portal of Casa de la Vall (the parliament's old seat), with the coat of arms of the country and a fragment of a window above it. Two compact groups of human faces on both sides of the design, as if they were stones of the building, mean the cohesion of Andorrans as a social community united in history, institutions and values.
The inscription '600 ANYS DEL CONSELL DE LA TERRA' (600 years of the Council of the Land) at the top, and the name of the issuing country 'ANDORRA' and both year dates '1419' and '2019' in the middle of the number '600' below complete the design. The coin's outer ring bears the 12 stars of the European flag.
Issuing volume: 60 000 coins
Issuing date: 4th quarter 2019
59,00 €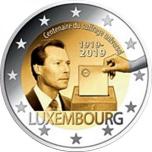 Feature: The 100th anniversary of the universal suffrage
Description: The design shows on the left hand the effigy of His Royal Highness, the Grand Duke Henri, and on the right hand a ballot box where a ballot paper is being inserted by a hand. At the bottom is the name of the issuing country 'LUXEMBOURG'. At the top, in semi-circle form is the inscription 'Centenaire du suffrage universel' (Centenary of the universal franchise) and underneath the inscription '1919 - 2019', the latter being the year of issuance. The coin's outer ring bears the 12 stars of the European flag.
Issuing volume: 500 000 coins
Issuing date: September 2019
12,00 €