Dog Family - The Year of the Dog Tokelau 5$ 2018 Reverse Proof 99,99% Silver coin
Diameter: 38.6mm
Metal: Silver
Purity: 999
Weight: 31.1g
Quality: Reverse Proof
Face Value: NZD 5.00
Dated: 2018
Mintage: 5,000

Tokelau's beautiful 1oz pure silver coin features a mother labrador lying in the grass with two young pups playing on her back. The delightful look on the mother's face engenders the qualities of this beautiful breed of dog. Released to commemorate the Year of the Dog in 2018, the coin is finished to the highest quality reverse proof with a satin matt finish table area and polished design.

The obverse features the IRB effigy of Queen Elizabeth II together with the national symbol of Tokelau, the Taluma. The monetary denomination and weight and purity of the coin also appears on the obverse.

The mintage on this coin is just 5,000 pieces.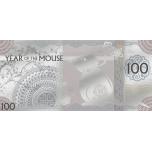 CountryMongolia
Year: 2020
Face Value: 100 Togrog
Silver: 99.9%
Weight: 5 g
Size: 150x70 mm
Quality: Prooflike
Mintage: 5000
59,00 €