Coin sheet Numis for 12 Matrix coin holders
Crystal-clear coin sheets featuring sliding inserts free from chemical softeners and acids for storing your coins securely. Size of sheets: 193 x 217 mm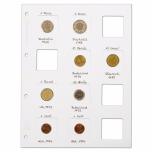 High-quality, white MATRIX slide-in panels to store 12 MATRIX coin holders (50x50 mm) each. Visually appealing, this stylish album is held in a white or black design. The album and the MATRIX slip-in panels aren't just especially sturdy, they also perfectly colour coordinated with MATRIX coin holders. This means your coins will be presented in the best possible way. If needed, the slip-in panels can be individually labelled. 
We recommend storing your slip-in panels in matching MATRIX ring binders. Also suitable for all VARIO and GRANDE ring binders. 
Overall size:  214 x 280 mm
12,00 €
Crystal-clear and sturdy coin sheet (pasticiser-free and acid-free) in OPTIMA format (202x 252 mm) to store and present your coins securely and beautifully. 8 different sized inserts to house 12 coins with Matrix holders 50x50 mm.
1,10 €