"Celebrating Love. Golden Eagle" Fiji 1$ 2021 Bi-metal 99,9% silver coin. 21.4 g
Silver: 99.9%
Weight: 21,4 g
Mintage: 5,000

The Golden Eagle implements true monogamy. Once the courtship is successful, they will live together for a long time. This kind of continuous love is relatively rare among birds of prey. The Background text is from Goethe's love Poem "restless Love".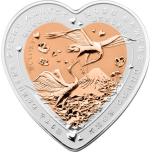 Face value: 1 $Fiji
Silver: 99.9%
Total weight: 37,4 g (21,4 g silver)
Mintage: 5,000
Japanese cranes are strictly monogamous. Once they become mates, they can maintain their marriage for life. Therefore, in Japan and other countries, Japanese cranes are regarded as a symbol of monogamous love. Male and female in pairs, intimate, together foraging, or standing together in pairs, inseparable, In the breeding season, the male and female pairs spread their wings and draw their necks and dance lightly. The graceful dancing posture is fascinating. The text on the outer ring quotes famous Japanese poet Kiyohara no Motosuke "Today the tears are full of sleeves, still think mutually firm. Love is like a wave that swallows the pine mountains" --Mibu no Tadami "I fall in love,The rumor already Goes around.Though I began to Give my heart to her secretly. Love is not known, this desire alone dark acacia"
129,00 €