"Celebrating Love. Golden Eagle" Fiji 1$ 2021 Bi-metal 99,9% silver coin. 21.4 g
Silver: 99.9%
Weight: 21,4 g
Mintage: 5,000

The Golden Eagle implements true monogamy. Once the courtship is successful, they will live together for a long time. This kind of continuous love is relatively rare among birds of prey. The Background text is from Goethe's love Poem "restless Love".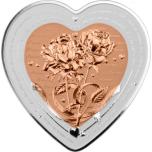 Face value: 1 $Fiji
Silver: 99.9%
Total weight: 37,4 g (21,4 g silver)
Mintage: 5,000
France, renowned as one of the most romantic countries in the world, has an unequalled appeal to the world. Romanticism comes from the Medieval French word for Romance(meaning Legend or novel), from which the word "romantic" is derived. French roses are also symbols of love.The flowers are bright, so enough to impress the girl's heart, let alone a beautiful confession with bright roses, love is coming. The background text includes verses from several famous French writers: La vie est un sommeil, l'amour en est le rêve. -- Alfred de Musset L'amour est comme le vent, nous ne savons pas d'où il vient. -- Honoré de Balzac L'amour est la poésie des sens. -- Honoré de Balzac C'est cela l'amour, tout donner, tout sacrifier sans espoir de retour. -- Albert Camus L'amour fait les plus grandes douceurs et les plus sensibles infortunes de la vie. -- Madeleine de Scudéry SPECIFICATI
119,00 €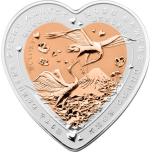 Face value: 1 $Fiji
Silver: 99.9%
Total weight: 37,4 g (21,4 g silver)
Mintage: 5,000
Japanese cranes are strictly monogamous. Once they become mates, they can maintain their marriage for life. Therefore, in Japan and other countries, Japanese cranes are regarded as a symbol of monogamous love. Male and female in pairs, intimate, together foraging, or standing together in pairs, inseparable, In the breeding season, the male and female pairs spread their wings and draw their necks and dance lightly. The graceful dancing posture is fascinating. The text on the outer ring quotes famous Japanese poet Kiyohara no Motosuke "Today the tears are full of sleeves, still think mutually firm. Love is like a wave that swallows the pine mountains" --Mibu no Tadami "I fall in love,The rumor already Goes around.Though I began to Give my heart to her secretly. Love is not known, this desire alone dark acacia"
129,00 €