Best Wishes On Your Wedding Day - Australia 1$ 2023 99,99% Silver Coin with Gold Plating, 1 oz
Face value: 20 dollars
Silver: 99.99%
Weight: 31.83 g
Diameter: 40 mm
Mintage unlimited

The union of two loving people in wedlock is marked by a public ceremony, joyful celebrations and the giving of gifts that symbolise their new life together. A wedding is an opportunity for the happy couple to share their love for one another in front of the most significant people in their lives. This beautiful silver wedding coin is a unique gift to celebrate newlyweds in 2023.
Wedding Themed Design
The coin's reverse depicts a bride and groom embracing on their wedding day and two intertwined gold wedding bands. The design includes the inscription 'Congratulations', and The Perth Mint's traditional 'P' mintmark.

Crystal Embellished Gift Packaging
Accompanied by a Certificate of Authenticity, the coin is presented in a stylish white display box with a heart-shaped crystal set within the lid. A beautifully printed outer features the words 'Congratulations On Your Wedding' in immaculate script font.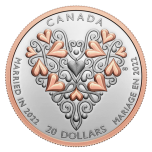 Face value: 20 dollars
Silver: 99.99%
Weight: 31.83 g
Diameter: 40 mm
Mintage: 10,000
It can be heard in the subtle softness of one's voice and touch; the smiles and laughter that linger between a couple long after the story has been told. Love can inspire displays of affection that can send the heart racing, just as it can be found in the smallest of everyday gestures. To truly love someone is to cherish them, to see the best in that person and value them for who they are; from the wordless communication of a gaze to the spellbinding chemistry of a kiss, the love shared between two people is a precious gift that once found, should be celebrated and nurtured.
Going to a wedding this year? Need a special gift they will enjoy forever? Then celebrate that special moment in a couple's love story with this pure silver coin!
The reverse design by Canadian artist Sylvie Daigneault is a beautiful celebration of love and an artistic ode to marriage–an occasion when two individuals mark their commitment to one another. Fittingly, two different design elements—hearts and arabesque-style scrolls—come together in one intricately engraved pattern that forms a large heart shape. Also engraved on the reverse is the year "2022", the word "CANADA" and the face value "20 DOLLARS". The obverse features a pink gold-plated effigy of Her Majesty Queen Elizabeth II by Susanna Blunt.
Your coin is encapsulated and presented in a premium graphic box that will impress everyone with its beautiful appearance
119,00 €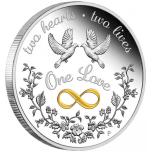 Face value: 1 AUD
Silver: 99.99%
Weight: 31.10
Diameter 40.90 mm
Maximum Mintage 5,000
Presented in elegant gift box packaging, this flawlessly struck 1oz silver coin honours love in all forms as a lasting representation of the bonds formed when two hearts become one.
Harmonious Design
The reverse of the coin depicts two doves, a gold coloured infinity symbol and a stylised pattern of flowers and leaves. Also included in the deign is the inscription 'two hearts two lives One Love' and The Perth Mint's 'P' mintmark.
Presentation Packaging and Numbered Certificate
The coin is presented in a classic black display case with a clear lid. Packaged in a stylish gift box shipper adorned with a beautiful ribbon, each coin in the limited mintage of 5,000 is accompanied by a numbered Certificate of Authenticity.
119,00 €