Amaterasu Divine Faces of the Sun 3 oz Antique finish Silver Coin 5$ Niue 2021
Nominal value 5 $
Silver: 99.9%
Weight: 3 oz
Dimensions: 55 mm
Maximum Mintage 7,500
Finish: Proof

Amaterasu Omikami is translated from Japanese as "Great Divinity Illuminating Heaven". In Japanese mythology, Amaterasu is a celestial sun goddess and important Shinto deity. She symbolizes fertility and makes plants grow, which give life not only to humans but also to the gods. As the guardian of the Japanese people, she is represented by the emblem of the rising sun on the Japanese flag.

The coin wonderfully depicts Amaterasu, who is holding the mirror in her hands. This mirror reflects the divine origin of the sun goddess. Such decorations as an amber inset and gilding elements give a perfect touch to the design of this coin.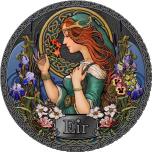 Face value: 5 sed0
Silver: 99.9%
Weight: 50 g
Diameter 50 mm
Maximum Mintage 500
Eir is a significant figure in Norse mythology because she saved the lives of many people. There is no unity in defining who is she – whether the Norse goddess or Valkyrie, but either way, all sources describe her as a figure of life, and patron of all those who work in medicine. She is familiar with all treatments and is skilful with herbs. Her colour is red, and her power is herbs.
That is why, in this coin, she is portrayed as a young woman of a slender build with reddish hair, smelling a red flower. The goddess is surrounded by healing herbs, home remedies, and colourful flowers, which are greatly reproduced with the help of digital printing.
Get amazed with healing beauty – Eir!
249,00 €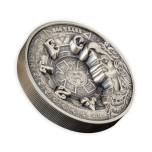 Kaal: 1000 g (1 kilo)
Hõbe: 99,9%
Läbimõõt: 100 mm
Nimiväärtus: 25 $
Antiikviimistlus
Tiraaź: 199 tk
Suurepärase kvaliteediga ja rohkete detialidega hõbemünt äratab taas ellu asteekide kalendri saladused, luues muljetavaldava 3D efekti.
2149,00 €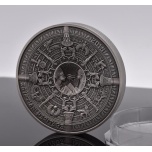 Weight: 1000 g (1 kilo)
Silver: 99,9%
Diameter: 100 mm
Face value: 25 $
Antique finish
Mintage: 199 tk
This amazing 1 Kg Silver coin is the fourth release in the "Multiple Layer Kilo", honouring the Egyptian Heritage by showing famous Egyptian symbols and figures. The coin features a multiple layer Technique with different depths to create a stunning detailed 3D-effect and comes in a beautiful case, along with the Certificate of Authenticity. Limited mintage of only 199 pcs worldwide
2199,00 €