Acrylic coin etui PRISMA, for 1 Quadrum coin capsule, transparent lid
his innovative acrylic coin etui protects your QUADRUM coin capsule in style. The transparent lid means the focus really is on the coin inside. The black base features a moulded coin insert the perfect size for a QUADRUM coin capsule, as well as 4 non-slip feet on the bottom. Highly scratch-resistant. Features a secure magnetic lock. Also fits coin holders (50 x 50 mm). Overall size: 80 x 80 x 16 mm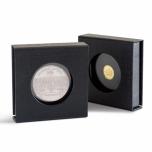 Black coin etui made of sturdy cardboard for QUADRUM capsules. The highlights: viewing window to look at the coins and display function for coin presentation. Tray featuring a black velour surface. Unobtrusive magnetic closure. Capsules are not included.
Size: 71 x 71 x 20 mm
6,90 €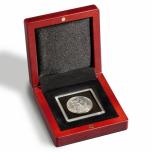 Elegantne punase puiduimitatsiooniga ja musta sametsisuga kinkekarp Quardum kapslis mündile.
Quadrum kapslid müntidele mõõduga 14-41 mm on saadaval eraldi!
Välismõõt: 80 x 80 mm
15,90 €
Elegant coin etuis with a leatherette finish for storing coins in capsules. The sturdy metal casing is covered with a fine-grained, padded leatherette fabric. The satin-covered lid cushion, as well as the stylish velvet inlay give these etuis a look of premium quality. The inside lid features a satin ribbon to store a certificate.
Overall size:  65 x 65 x 26 mm
8,90 €