27 mm Sterling Silver Pendant Necklace Making Kit (coin not included)
Turn your coin into wearable jewelry!

With this easy-to-use kit, transform your favourite 27 mm diameter coin into a pendant necklace!

An ideal gift for someone special.

Designed for 27 mm coins only
Made from sterling (92.5% silver) silver
Includes an 18 inch nickel-plated snake necklace
Includes a two-headed Phillips and flat Torpedo modern precision screwdriver

Your kit arrives packaged in a black velvet pouch.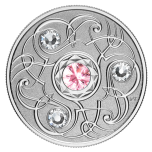 Face value 5 dollars
Mintage: 5,000
Composition: 99.99% pure silver
Finish reverse proof
Weight: 7.96 g
Diameter: 27 mm
For those born in October, your colourful birthstone is a symbol of creativity and healing. Tourmaline is traditionally believed to strengthen body, mind and spirit while guarding against negative thoughts. Flanked by three smaller crystals and surrounded by a Celtic art-inspired design, the colourful Swarovski® crystal at the centre is a token of good fortune—not just in your birthday month, but for the whole year. And with the help of a bezel kit (not included), your coin will easily become a cherished piece of jewellery that expresses who you are.
79,00 €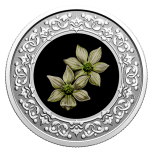 Face value 3 dollars
Composition 99.99% pure silver
Finish reverse proof
Weight: 7.96 g
Diameter: 27 mm
Mintage 4,000
British Columbia's floral emblem isn't so much a flower, but a flowering tree– a unique trait that sets the Pacific dogwood apart from our other provincial and territorial blooms. The showy white flowers on our sixth Floral Emblems of Canada coin appear each spring, and occasionally in September too. The tree itself, Cornus nuttallii, is a four-season beauty that can grow as high as 18 metres. And while the flowering dogwood was a popular image in British Columbia prior to 1956, the Floral Emblem Act assured its position as the official symbol of Canada's westernmost province
79,00 €