Supplement for Classic-Optima album "Joint issues". (2013 and 2015)
Preprinted sheets and plasctic pockets for Optima Joint issue European 2-Euro commemorative album. 2013. "50 years of the Élysée Treaty" and 2015 "30 years EU-Flag "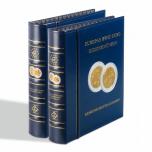 OPTIMA classic coin album for storing all the European 2-euro joint issue coins. Collect your 2-euro commemorative coins in two expandable volumes. The theme "Europe's 2-euro commemorative coins (without the joint issue coins)" is covered in a separate album (ref. no.: 343 381). Includes coin sheets and illustrated pages and important background information regarding year of issue, the coin motif and the issue occasion. Brought up to date thanks to annually released supplements. Overall size of album: 245 x 270 mm; overall size of slipcase: 250 x 280 x 60 mm. (Background information in German language.)
Contents: 8 OPTIMA coin sheets and 8 illustrated pages. Contains the following themes: 2-euro joint issue coins commemorating "50 years of the Treaty of Rome", "10th Anniversary of the EMU" and "10th Anniversary of the euro", "50 Jahre Élysée-Vertrag"and "30 Jahre EU-Flagge", "100 Jahre  taking into account all five of the German mints (A, D, F G, J). Album includes matching slipcase.
49,90 €