Celebration of Love -Swarovski Crystal Canada 3$ 2020 99,99% Silver Coin 7,96 g
Silver: 99.99%
Weight: 7.96 g
Diameter: 27 mm
Face value; 3 dollars
Mintage: 15,000

Our Celebration of Love coin is a message that comes from the heart. Its colourful flowers reflect the different shades of love: zinnias for friendship; forget-me-nots for a timeless connection; cosmos for feelings that run deep; and daisies for pure admiration. It's the perfect symbol of commitment, appreciation and gratitude for the special bond represented by two Swarovski® crystals.

Is your special someone tired of getting flowers and chocolates? Then try this pure silver coin that celebrates your love.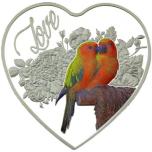 Diameter: 40mm
Silver: 99.9%
Weight: 20g
Monetary Denomination: NZD 1.00
Shape: Heart-shaped
Country of legal tender: Tokelau
Maximum Mintage: 1000
Year Dated: 2018
This gorgeous design shows a pair of love birds perched companionably together on a branch with stunning peonies in the background. The birds and the perch they are sitting on are highlighted in colour while the peonies and the word 'Love' is minted in the highest frosted proof quality.
Each coin is made from 20g fine silver and carries the image of Her Majesty Queen Elizabeth II on the obverse with a monetary denomination of 1 Dollar.
This is a limited edition coin and what more lovely symbol of lasting love and affection is there than these colourful lovebirds!